Sectors: Consultancy, Financial Services, Strategy Consultancy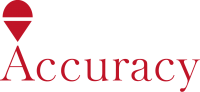 Who are we?
We are a fast-growing consultancy company with an international network and offices in Europe, America and Asia, with more than 400 consultants. Our client base consists of private equity funds, multinationals, financial institutions and law firms. We help our customers make decisions in a wide range of situations, including mergers & acquisitions, strategy development, valuations and economic disputes (i.e. litigation). 
Work for us
Accuracy is offering a challenging career path. As an Analyst, you will work on a unique combination of financial and strategic projects. The Accuracy model requires the dedication of the best professionals in our field. Our company culture offers our employees an optimal work environment: intense training, minimal bureaucracy, continuous feedback, international opportunities and a flexible work-life balance. We pride ourselves on our multidisciplinary teams, which are able to work flexibly across different types of situations internationally, enabling our consultants to develop a broader view of client issues and to seek out innovative solutions. 
What are we going to do at the Beroependagen?
If you want to experience first-hand what it's like to work at a financial and strategic advisory firm then this is an opportunity for you. You will participate in a challenging case together with other candidates while enjoying a taste of our international culture and meeting the people that work for us.