Company |
Friesland Campina
Sectors: FMCG, Financial Services, Logistics, Data Science & Business Analytics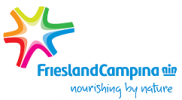 Who are we?
Since 1817, FrieslandCampina has been making a difference in the lives of millions of people. In the lives of our shareholders, almost 18,000 farmers in the Netherlands, Belgium and Germany, our employees and our consumers. FrieslandCampina has a long history and exists in a cooperative tradition. A cooperative cannot thrive with a focus on the short term. That is why we are future focused. We do that for our consumers, our customers, our farmers. And for the world. Everything we do at FrieslandCampina is guided by our purpose: nourishing by nature. With our purpose we strive for:  
Better nutrition for the world

A good living for our farmers

Now and for generations to come
At FrieslandCampina we share the passion to get more out of milk together with 24,000 employees. Our shareholders, farmers in the Netherlands, Belgium and Germany, supply more than 10 billion kilograms of milk per year to FrieslandCampina. The products of FrieslandCampina are part of more than 30 iconic brands in more than 100 countries worldwide. Every day we reach millions of people. With sales of 12.1 billion euros, we belong to one of the largest dairy companies in the world. 
FrieslandCampina produces and sells consumer products such as dairy-based beverages, infant nutrition, cheese and desserts in countries around the world. In addition, products are supplied to professional customers. FrieslandCampina does not only have iconic B2C brands, a big part of our business is in the B2B market, where we sell ingredients and semi-finished products to manufacturers of nutrition, the food industry and the pharmaceutical sector globally. 
Work for us
At FrieslandCampina you collaborate with colleagues in an international environment where you feel empowered and trusted. We value talented people from any background eager to contribute to something bigger than themselves. All our  employees have a strong drive to work on things that matter and make decisions that increase the impact of our organisation. For you as a student or graduate, we offer multiple possibilities to start your career. Go for an internship, entry level position or join our Corporate Traineeship in the disciplines of Commerce, Finance, IT, Supply Chain & Operations or Technology.