Company |
Friesland Campina
Sectors: FMCG, Financial Services, Transport & Logistics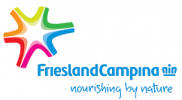 Who are we?
FrieslandCampina, a leading nutrition multinational with a strong core in dairy
Work for us
Unique company culture of Dutch heritage and international presence in 38 countries. We offer great work life balance, and competitive salary & benefits package so you can enjoy it. Next to that, unlimited possibilities to develop yourself. You can expect diverse training and mentoring programs to help you grow on your own professional journey, exceptional support of cross disciplinary movement within the company to broaden your knowledge and growth paths, and a friendly and informal working environment, yet professional team members as sparring partners. 
What are we going to do at the Business Orientation Days?
A presentation and a lunch where you can ask all your questions and learn more about our company.