Sectors: Banking, Financial Services, Data Science & Business Analytics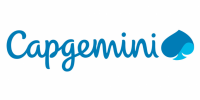 Who are we?
Paying back a friend, checking whether a product is in stock at a store or tracking a parcel. Without realizing it, you already come in contact with Capgemini frequently in all sorts of ways. We work with our clients to create business & IT solutions that are geared to their customer's needs and yield concrete results. Our experts really make an impactful contribution to the daily lives of our clients and their customer.
Work for us
Choose a career that is a good fit 
A typical consultancy firm? No, that's not us. We do not have fixed frameworks and your path is undoubtedly not set in stone either. You are the one who decides how your career progresses at our organization. And what direction you move in. Do you want to specialize and become an expert, for instance, or advance to senior management? Whatever your ambitions, as a professional you have the freedom to decide your own course.  
What are we going to do at the Beroependagen?
We are going to participate with the module: individual interviews. You are going to meet our consultants and learn what it means to be a consultant at Capgemini Invent. You can explorer the basic skills of consultancy and of course get to know the multiple industries in which Capgemini Invent is active.