Sectors: Consultancy, Financial Services, Strategy Consultancy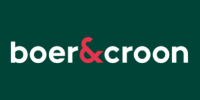 Who are we?
NOTE: All Boer & Croon activities are for Dutch speaking students only!
Boer & Croon levert oplossingen voor managementvraagstukken met mensen die de klus klaren. Mensen die zien dat het anders of beter kan zijn er in overvloed. Mensen die het zien en doen zijn schaars.
De missie is helder: Boer & Croon levert resultaat, linksom of rechtsom en liefst sneller dan voorzien. Een oplossing op papiervolstaat nooit, de uitdaging komt pas na de analyse. Daarom selecteert Boer & Croon de beste mensen mét het vermogen om te realiseren. Slimme doeners met oog voor hun omgeving. Doen wat nodig is. Door aan het roer of in de modder te staan en door er samen op af te gaan.
Work for us
Vind jij het belangrijk je na je studie te blijven ontwikkelen? Word je warm van managementvraagstukken en zit jij nooit stil? Meld je dan nu aan voor de Business Orientation Days.
What are we going to do at the Business Orientation Days?
Tijdens de individuele gesprekken kun je ons beter leren kennen en kun je al je vragen stellen die je hebt. Hopelijk tot dan.