Sectors: Banking, Financial Services, Trading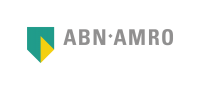 Who are we?
As one of the 3 large Dutch Banks, ABN AMRO is active in Personal & Business Banking (consumers and small enterprises), Wealth Management (affluent clients) and Corporate Banking (medium to large enterprises & financial institutions). ABN AMRO has around 19,000 employees and focuses on western Europe. 
The financial world has never been as dynamic as it is today. The time for you to join forces with us to make banking faster, easier and smarter is now. Technology is evolving at lightning speed and drive of innovation has a major impact on the financial system. We need your talents to help make our bank future-proof! Whatever your interests or background, we challenge you to use your creativity to innovate the future. We offer a work environment that lets you explore your enterprising spirit and gives you the freedom to develop yourself, both professionally and personally. We want you to feel responsible for your work, because you are. 
Work for us
Starting a job at ABN AMRO means getting even better at what you do 
At ABN AMRO, we'll have you on the work floor from day one. Depending on your role, you'll be meeting with internal and external clients to advise them on financial products, you'll help with the mass migration of data to the Cloud, you'll devise IT-related and other solutions to questions from the business or we'll be asking you to procure the same-quality products at lower prices. Starting a job at ABN AMRO means getting even better at what you do. 
It's up to you; where do you want to start? 
Are you a recent graduate eager to start your career? Maybe taking part in one of our traineeships is the perfect way to kickstart your career. You will find more information on our traineeships here. Or if you're still in school and are looking to put the theory you've learned into practice, we might just have an internship for you. Click here for our internship vacancies.   
For more information about working at ABN AMRO and our current vacancies, please visit www.workingatabnamro.com.  
Any questions? Ask away! Send us an email at werkenbij@nl.abnamro.com